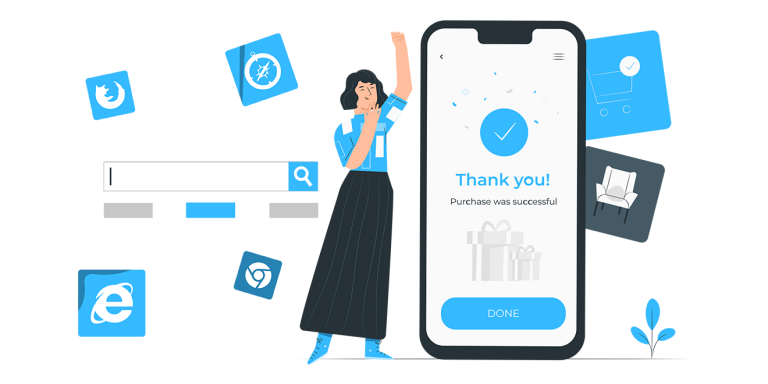 E-commerce (electronic commerce) is the activity of electronically buying or selling of products on online services or over the Internet. E-commerce draws on technologies such as mobile commerce, electronic funds transfer, supply chain management, Internet marketing, online transaction processing, electronic data interchange (EDI), inventory management systems, and automated data collection systems. E-commerce is in turn driven by the technological advances of the semiconductor industry, and is the largest sector of the electronics industry.
E-commerce typically uses the web for at least a part of a transaction's life cycle although it may also use other technologies such as e-mail. Typical e-commerce transactions include the purchase of products (such as books from Amazon) or services (such as music downloads in the form of digital distribution such as iTunes Store).
There are three areas of e-commerce: online retailing, electronic markets, and online auctions. E-commerce is supported by electronic business. E-commerce businesses may also employ some or all of the following:
Online shopping for retail sales direct to consumers via web sites and mobile apps, and conversational commerce via live chat, chatbots, and voice assistants; Providing or participating in online marketplaces, which process third-party business-to-consumer (B2C) or consumer-to-consumer (C2C) sales; Business-to-business (B2B) buying and selling;[4]
Gathering and using demographic data through web contacts and social media; B2B electronic data interchange;

Marketing to prospective and established customers by e-mail or fax (for example, with newsletters);
Engaging in pretail for launching new products and services; Online financial exchanges for currency exchanges or trading purposes.
Business to Consumer (B2C): B2C e-commerce is the most popular e-commerce model. Business to consumer means that the sale is taking place between a business and a consumer, like when you buy a rug from an online retailer.
Open Your Store Today with Ventura Ecommerce Development Services
Our ecommerce website development services can help you launch your new online store with ease and confidence. We provide a reliable solution to achieve the best end result. We save you valuable time and energy, reduce the worry of complex development and troubleshooting, while enabling you to focus on the daily operations of your business.
We are reliable and established, with more than five years of industry knowledge and experience behind us. Our specialists are focused on achieving results quickly, while offering outstanding levels of customer service and support. We use an honest and ethical approach in everything we do, so you can trust our services now and in the future.
When contacting the specialist team at Ventura in UK, you will receive a comprehensive service which includes design, shopping carts, speed performance improvements, marketing tool integrations and more to ensure that your shopping cart is unveiled as a high standard and professional cart to help you achieve the results you are looking to achieve.
Our professional development team cater to companies of all sizes from the smallest online store to large multi-store websites. We design and develop our ecommerce sites with focus on providing a quality end product our clients can rely on and trust.
Our Ecommerce development services provide an eye catching web store at an affordable price. We provide affordable pricing plans with no long contract. We offer a monthly basis service, enabling clients to budget with ease.
Reasons to Use Our Ecommerce Development Services
Our focus is to provide our clients with user friendly and functional ecommerce sites to ensure that they can sell products online with complete confidence. We develop each ecommerce site to help our clients grow their customer base around the world. Our site is interactive and tailored to each client's unique requirements, while enabling them to provide unlimited offers and products on their site at any time. We ensure simple search functions to improve navigation of the site, ensuring clients can find products faster, while promoting a positive image to the top search engines, having a positive impact on your Ecommerce SEO campaign.

Benefits of using our ecommerce website development services includes:
A custom design tailored to your industry and audience
Social media integration to boost your SEO ranking
SEO friendly solutions to help you climb the ladder to SEO success
Responsive and eye catching designs to appeal to your audience
User friendly designs so visitors can find what they are looking for with ease and efficiency
Easy back door solution to add, remove and update products and descriptions
Our ecommerce development services enable you to overcome any geographical limitations, enabling you to operate globally
The ecommerce website development services we provide are cost effective with affordable pricing plans
Ecommerce websites are open 24 hours a day, increasing your chances of securing a sale and boosting your online revenue.
Discover Your Business Potential
ECOMMERCE SET-UP FROM £995 GET IN TOUCH TO DISCUSS YOUR REQUIREMENTS